Advanced Gift Wrapping PrestaShop Module
With the Advanced Gift Wrapping Module, you can offer your customers a wide selection of gift wrapping options for their purchases.
To add gift wrapping, go to Module Configuration page => List => Add :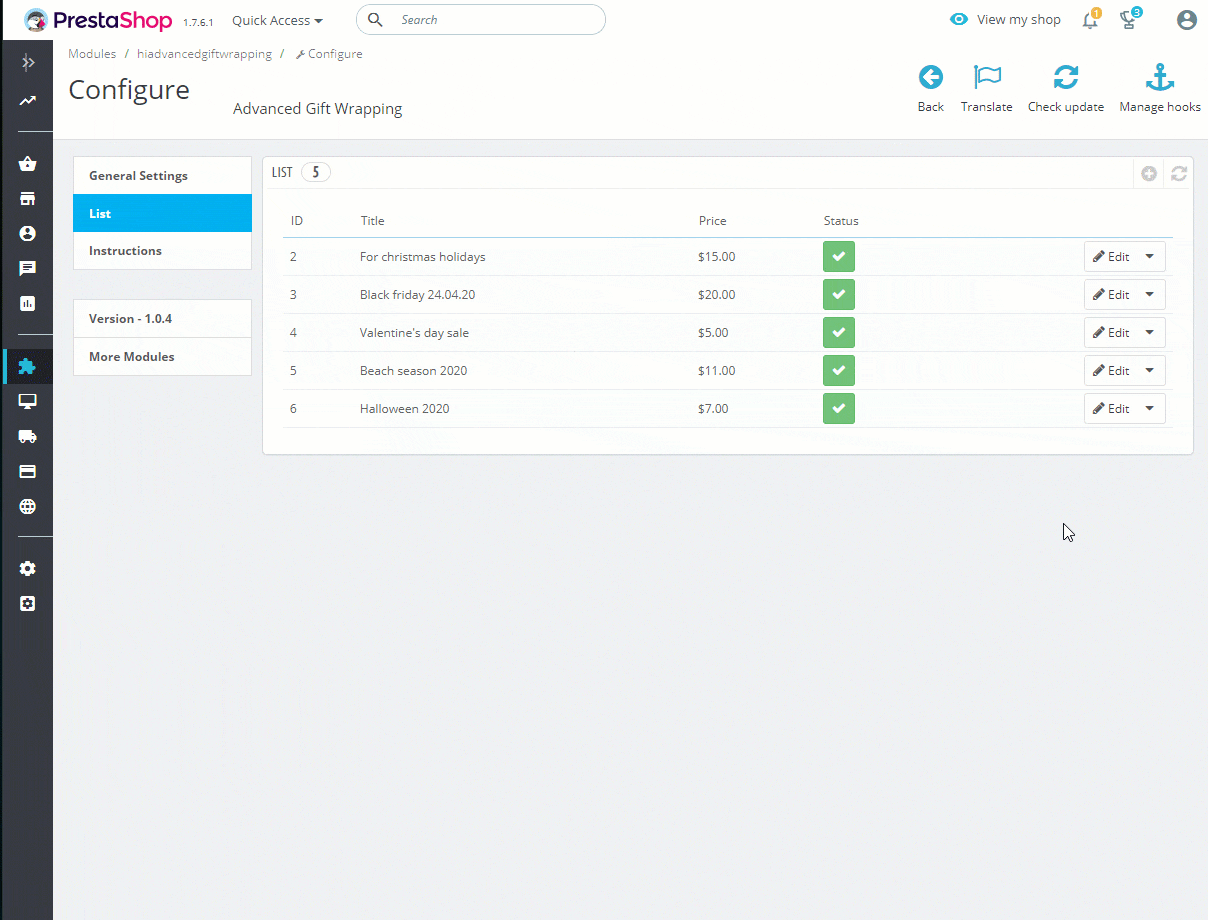 Next you must configure the settings : 
Let's go through all the settings step by step. 
Active 
If this option is disabled, the gift wrapping option will not be available for customers to select. You can Enable / Disable any gift wrapping option later. It's ideal tool if you want to offer some gift wrapping options only for certain holidays.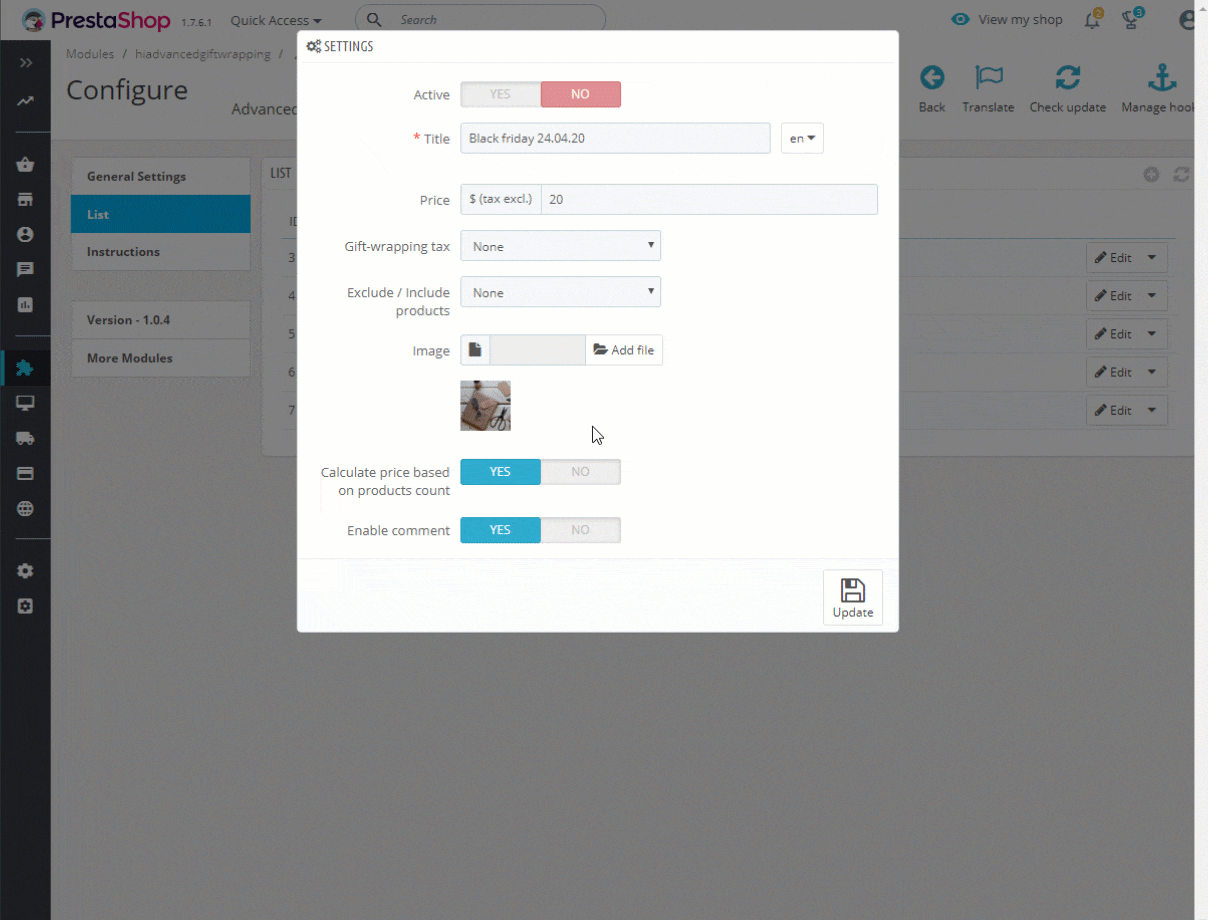 Title
You will surely add many gift wrapping options. By adding a title for each one, it will be easier for you to find the one you need. This will greatly simplify your work with the module. The title also will be visible for customers so make sure it describes the gift wrapping option well.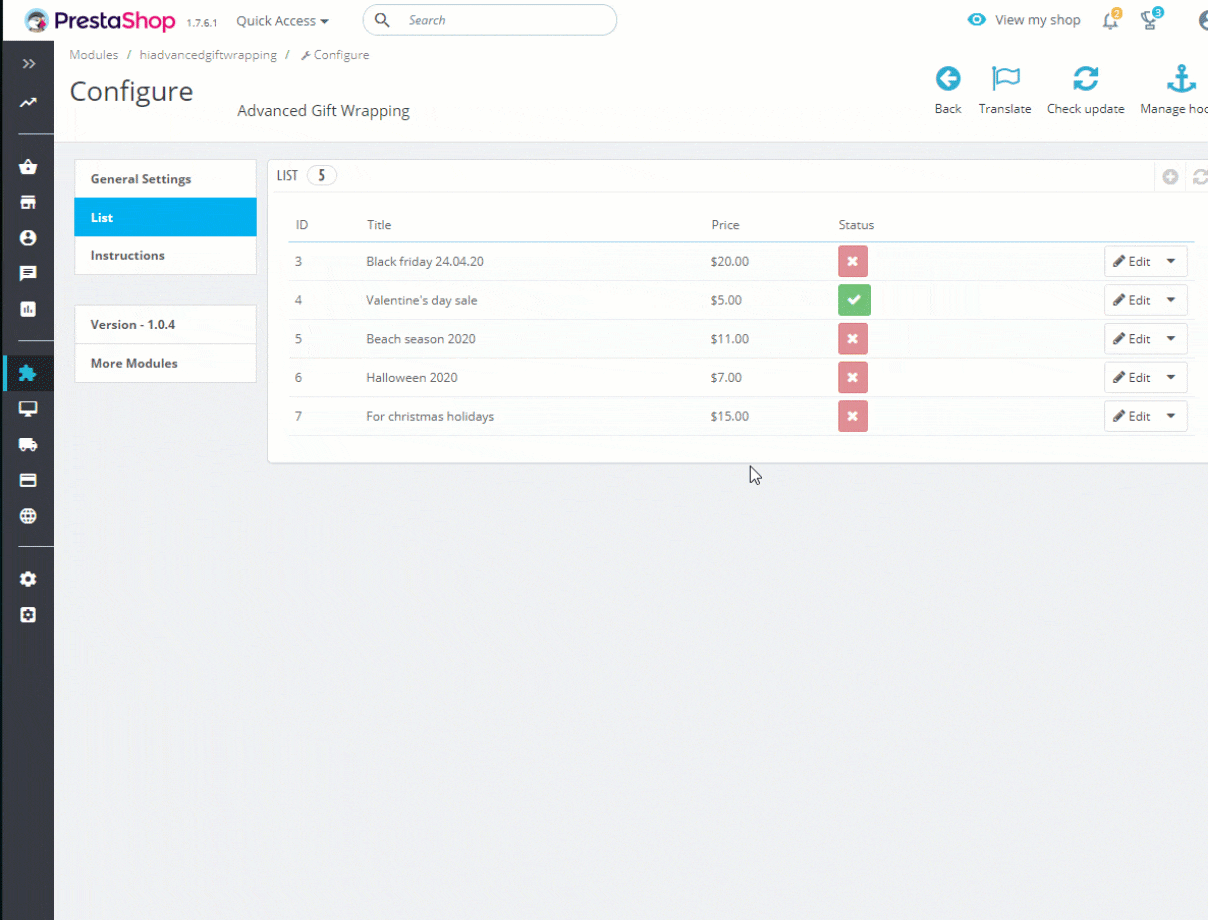 Price
Here you can enter tax excluded price for each gift wrapping option. Create several gift wrapping options, complete A/B tests and set the most attractive price for the customers. A correctly set price will lead to an increase in the number of people wishing to use the gift wrapping function, which in turn will increase your earnings.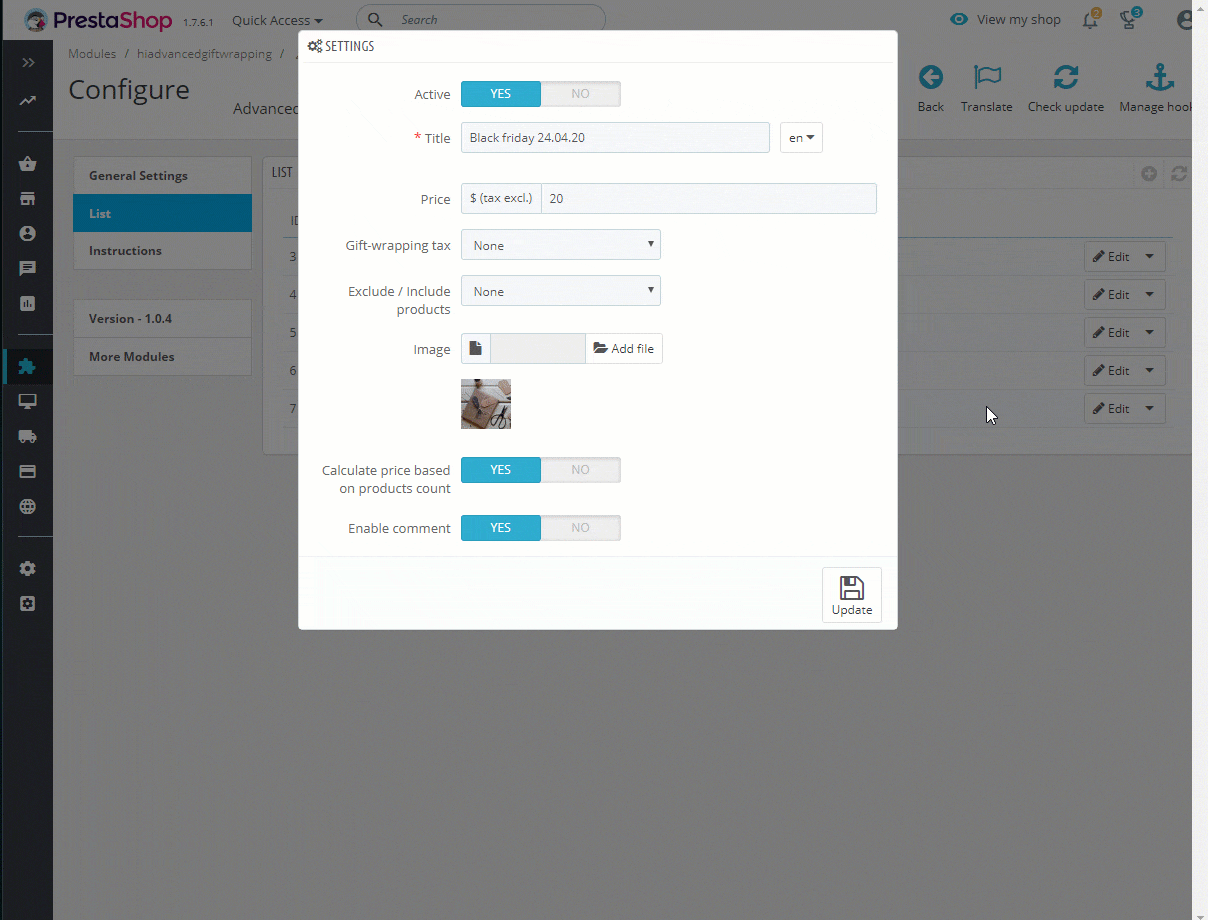 Gift-wrapping tax
You can select from tax rules available in admin panel. If you need additional tax rule, you can add a new one by going to International => Taxes => Add new tax.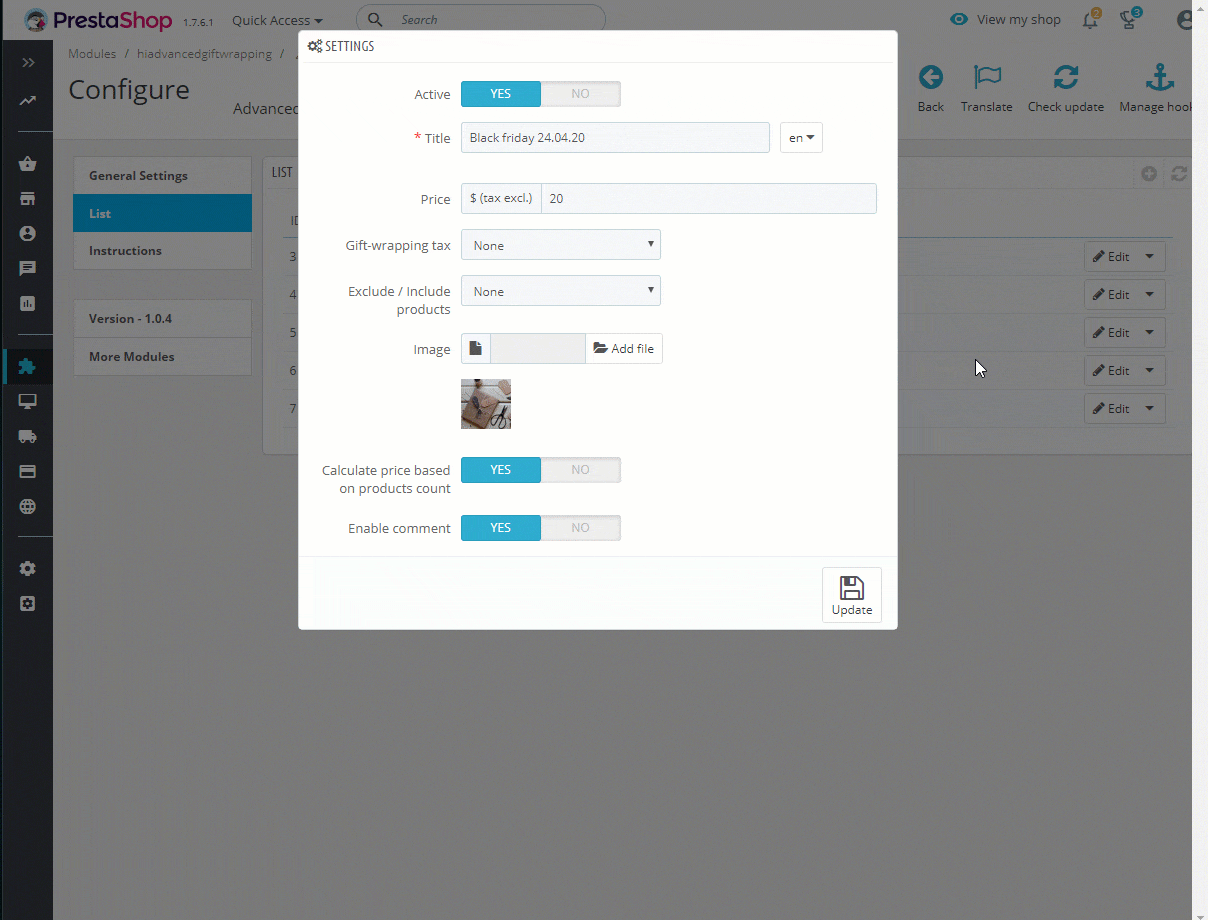 Exclude / Include products
Usually there are many products in store and you may need to offer one gift wrapping option for some products and another one for others. You can exclude or include products for a specific gift wrapping option. If you select "none" customers will be able to choose this gift wrapping option for all products.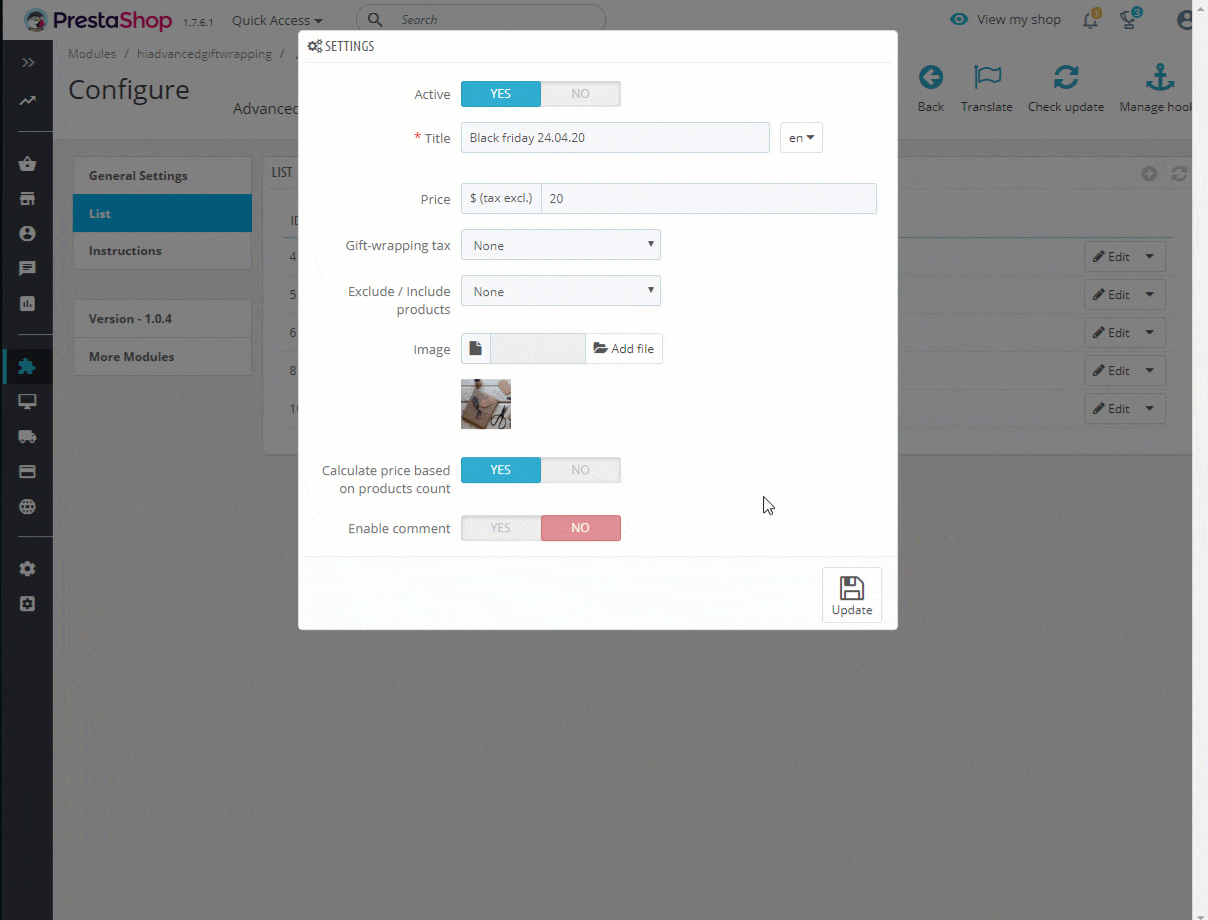 Image
The image you add here will be displayed to customers in the gift wrapping offer. Set the most relevant and colorful picture - this will increase the number of customers who want to use the gift wrapping option. You can resize images from General Settings.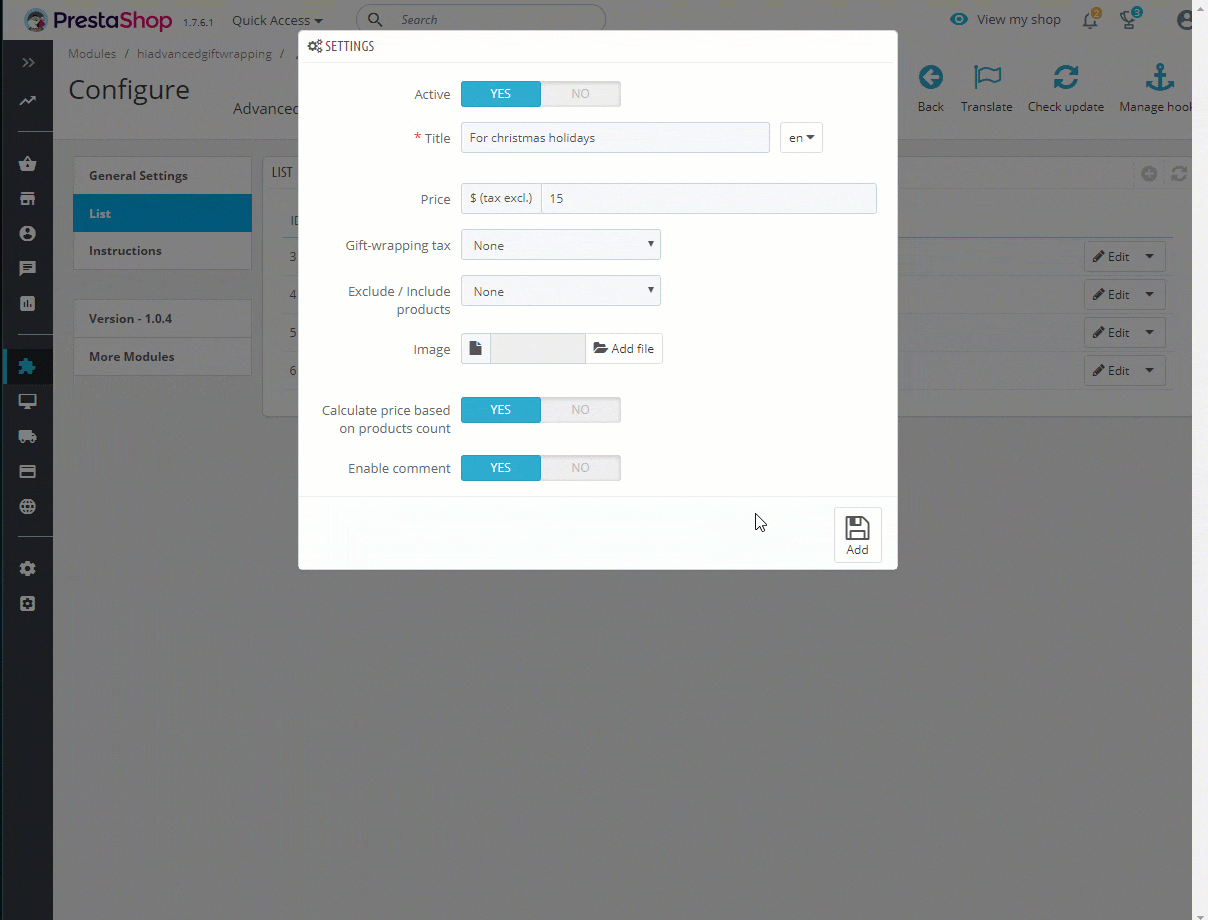 Calculate price based on products count
Here is an example of what this option is for: Suppose you set the price of the gift wrapping option to $10, the customer bought 6 pairs of pants and wants a gift wrapping for all of these pants. If you enable this option, then the price of gift wrapping will be $10×6 =$60. If you disable this option, then the price will be $10.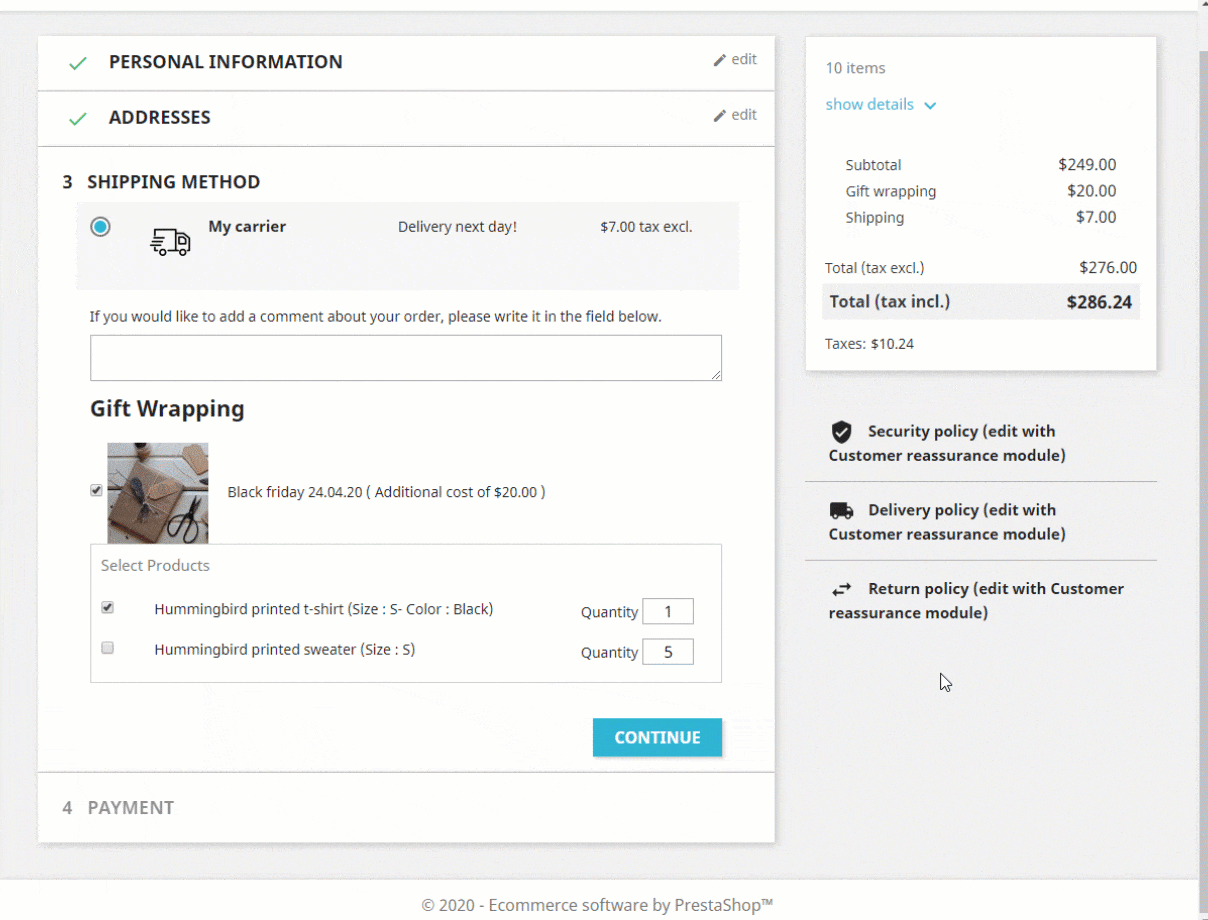 Enable comment
Here, customers will be able to add notes, wishes or possibly declarations of love and much more for a gift. We recommend that you always enable this feature - the ability to leave notes can be a decisive factor for the client to take advantage of the gift wrapping option.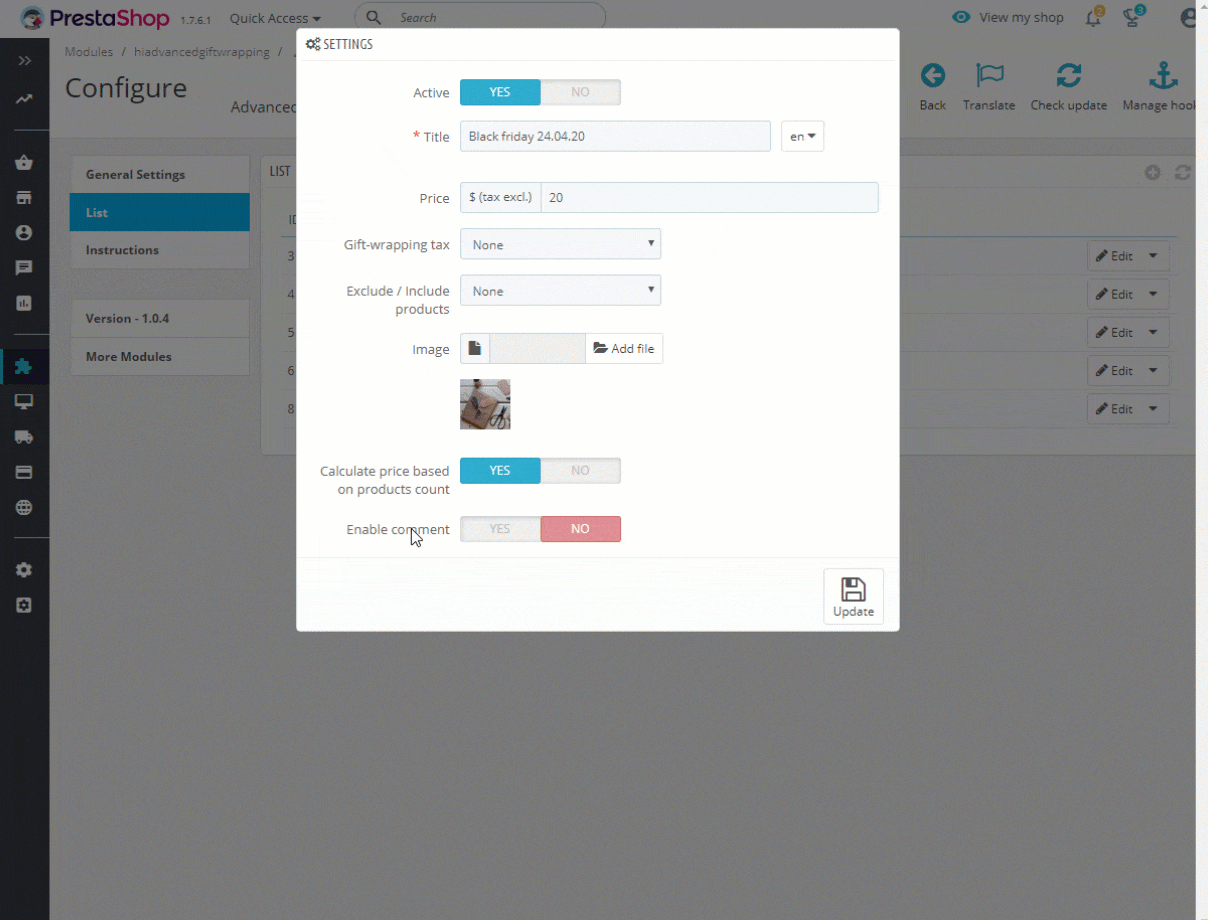 Now let's check General Settings : 
Selector type
Available Checkbox type (customers can select multiple gift wrapping options for single order) and Radio type (customers can select only one gift wrapping option).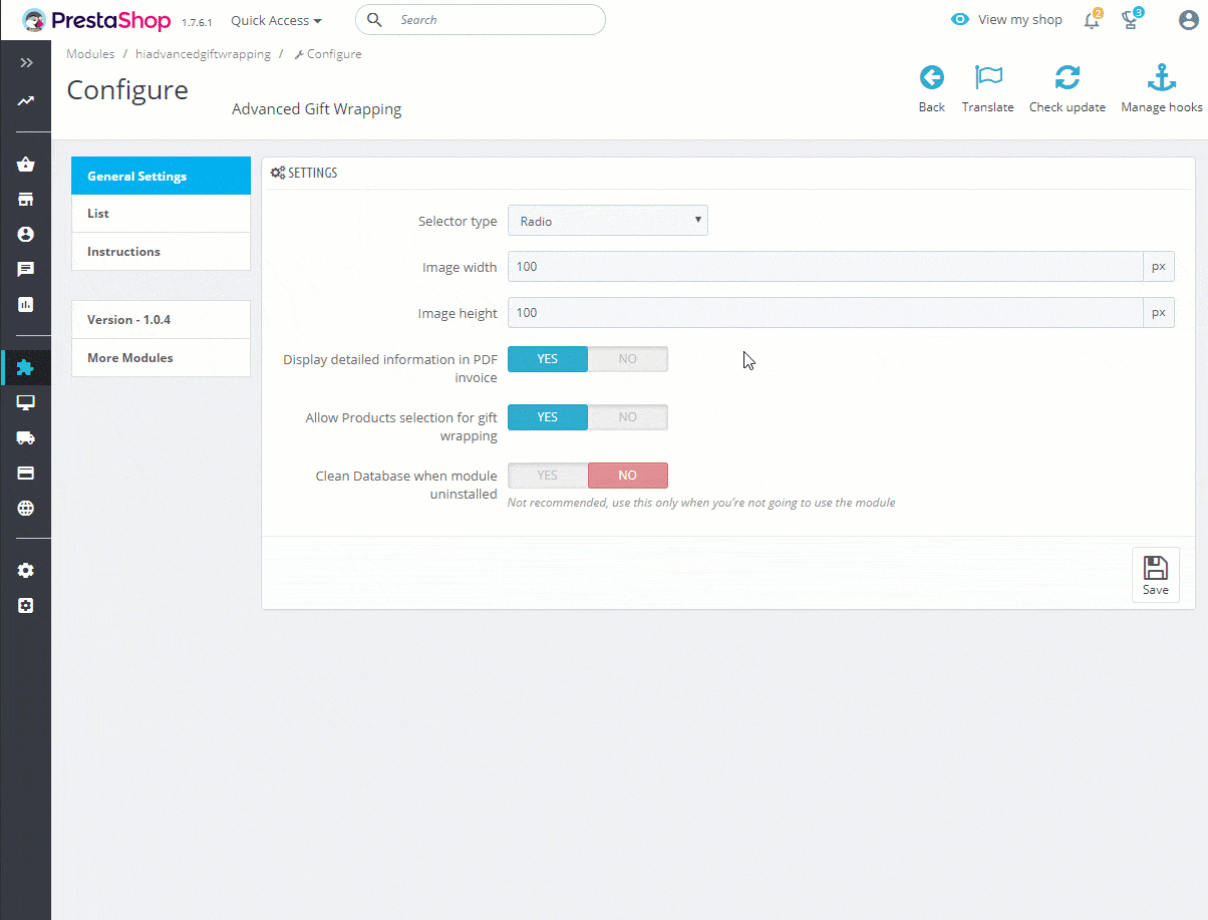 Image width and height 
You can adjust the width and height of the images in pixels for the gift wrapping option. Set dimensions that are most suitable for your store to enhance usability.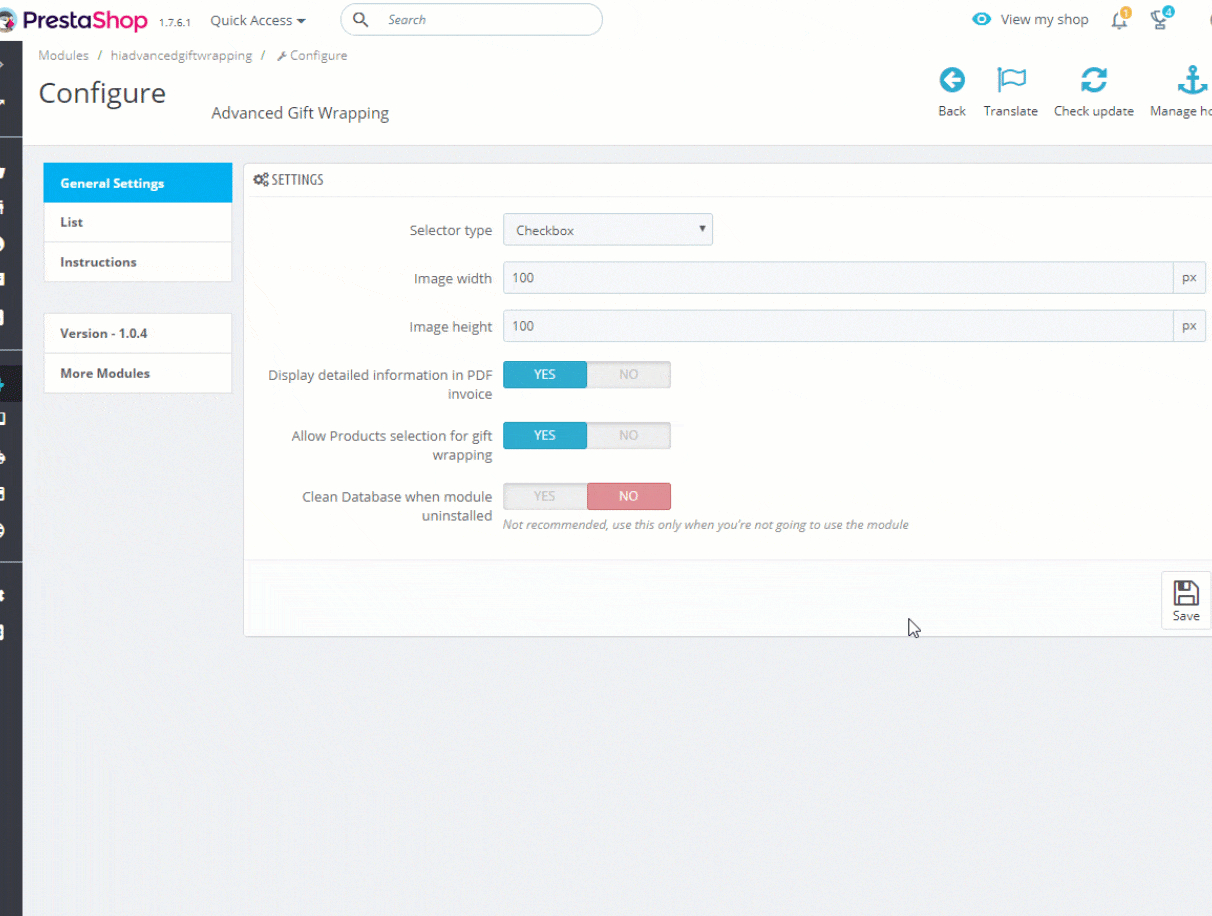 Display detailed information in PDF invoice 
Enable this option if you want to add detailed information about gift wrapping option in orders invoice.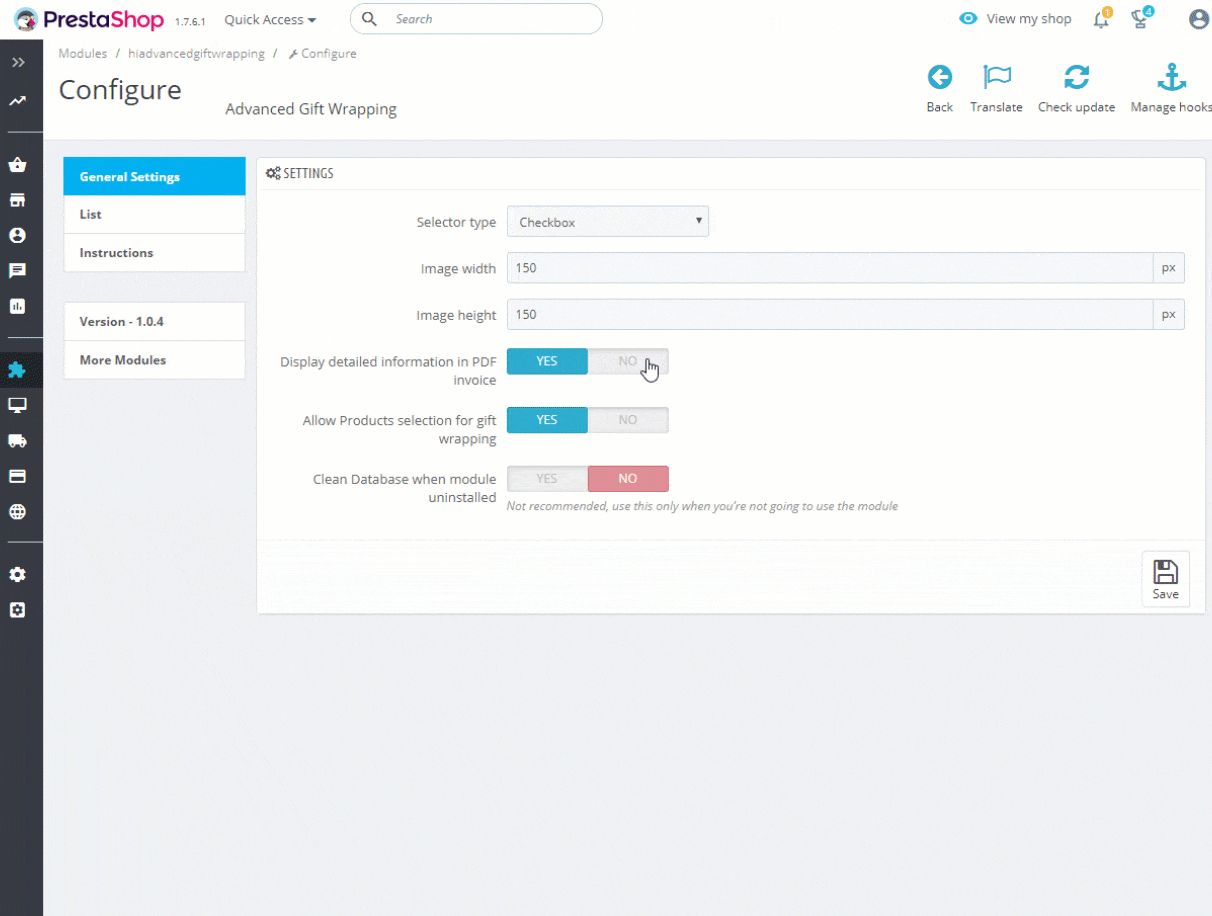 Allow Products selection for gift wrapping
Why is this feature needed? Suppose a customer bought 2 pairs of pants and three shirts. He wants to use the gift wrapping option for just one pair of pants and one shirt. If you enable this function, then he will have such an opportunity. Otherwise, he will need to choose the option of gift wrapping for everything purchased, and this may become the reason for his rejection.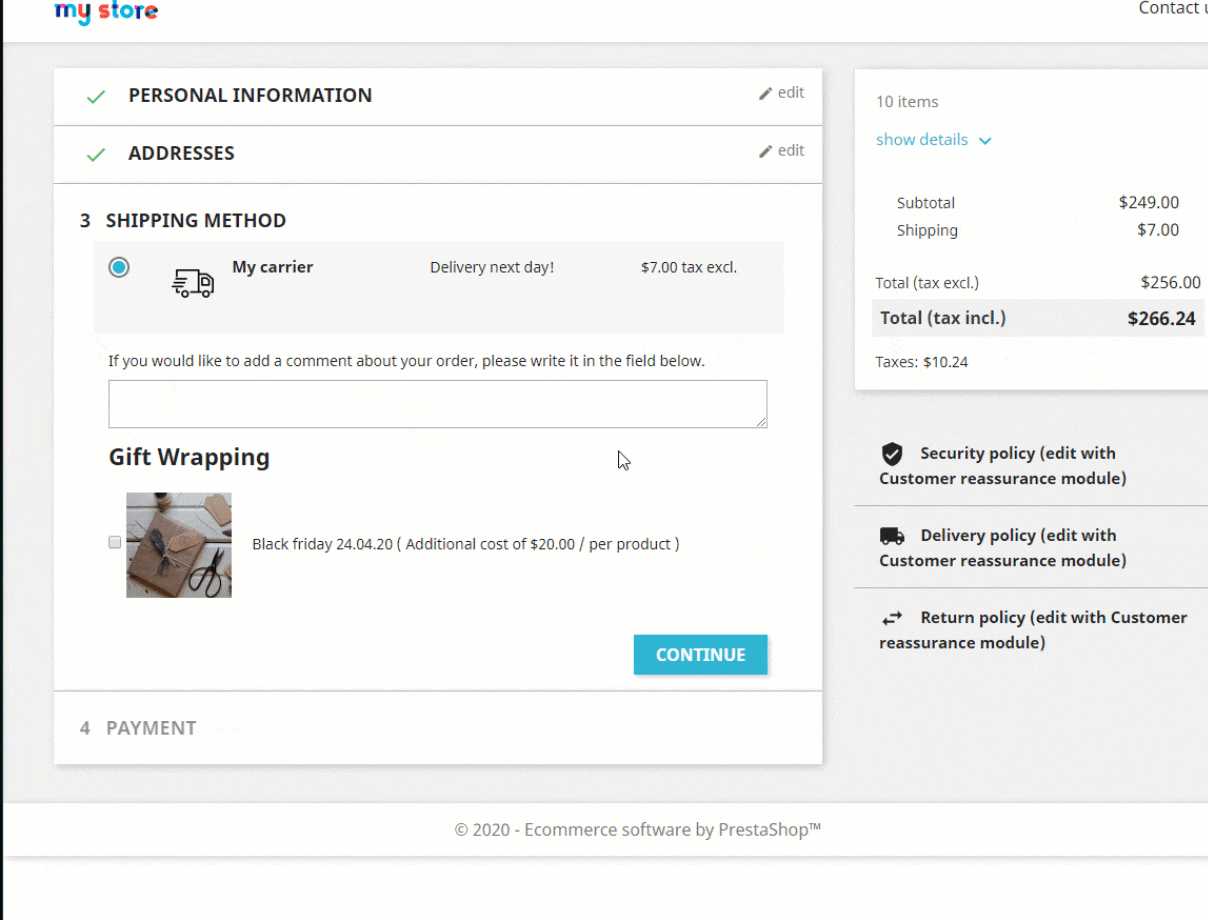 Clean Database when module uninstalled 
If enabled all data will be removed from database when module uninstalled. Enable this only if you're not going to use the module. 
Watch the video for more details:
If you are interested in Advanced Gift Wrapping PrestaShop Module Read More